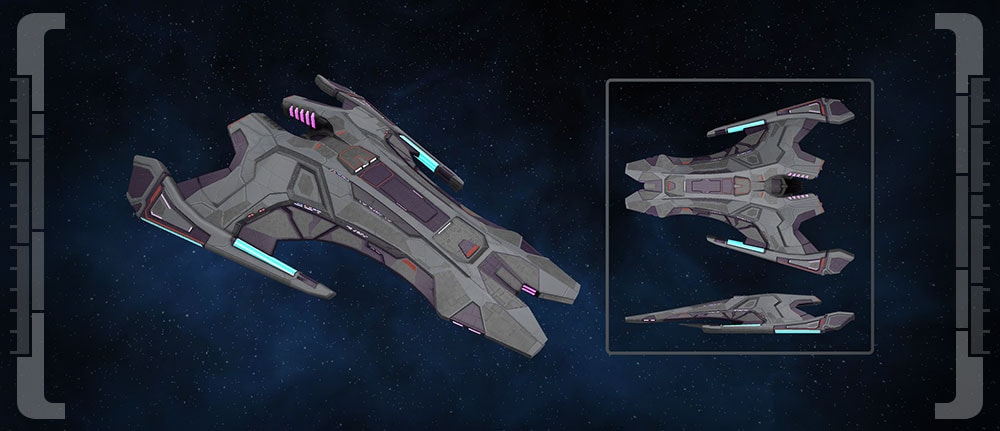 Jem'Hadar Vanguard Heavy Raider [T6]
Ces vaisseaux légers sont encore plus maniables et insaisissables que leurs vaisseaux d'attaque antérieurs, utilisés pendant la Guerre du Dominion. Leur utilisation fréquente dans des opérations périlleuses les menant loin de la protection de leur flotte, nécessite qu'ils soient polyvalents et capables de surmonter toutes les situations possibles.
Ce vaisseau possède un siège de Lieutenant-commandant spécialiste universel/Pilot.
Détails du vaisseau :
Tier : 6

Faction : Dominion (toutes les factions après avoir atteint le niveau de maîtrise 6)

Rang requis : Niveau 50

Résistance de la coque : 0,925 (27 750 au niveau 40, 31 913 au niveau 50, 37 000 au niveau 60)

Modificateur de bouclier : 1,1

Armes avant : 4

Armes arrière : 2

Emplacements d'accessoires : 2

Stations d'officiers de passerelle : 1 Commandant tactique, 1 Enseigne universel, 1 Lieutenant universel, 1 Lieutenant-commandant universel, 1 Lieutenant-commandant universel/Pilot

Modifications de console : 5 tactiques, 2 ingénierie, 4 scientifiques

Vitesse de rotation de base : 20

Modificateur d'impulsion : 0,2

Inertie : 75

Peut être équipé de Doubles canons

+15 Puissance des armes et +5 Puissance des boucliers

Console universelle – Polaron Particle Inverter

Flanquement de Raider amélioré

+33 % de dégâts bonus en frappant la cible sur les flancs arrière

Emplacement d'arme expérimentale, équipé d'un Field-Distortion Overcharge Pulse

Mécanisme de vaisseau "Vanguard Wingmen"

Starship Mastery Package (Raider)

Precise Weapon Systems (+Précision)

Tactical Maneuvering (+Défense)

Enhanced Weapon Systems (+Dégâts de toutes les armes)

Enhanced Weapon Banks (+Dégâts critiques)

Press the Advantage (Trait de vaisseau)

Déblocage pour compte

Statistiques du vaisseau d'amirauté :
ING :  30

SCI : 40

TAC : 47

SPÉCIAL : Ignore Tac +/- lors des événements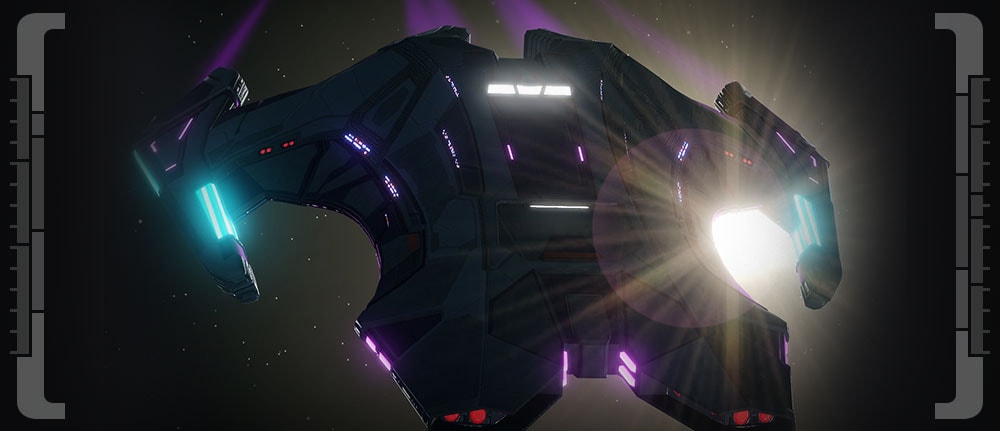 Console universelle – Polaron Particle Inverter
Le Jem'Hadar Vanguard
Heavy
Raider [T6] est équipé d'une console universelle Polaron Particle Inverter. En activant cette compétence, vous relâchez des explosions des particules d'AntiPolaron en continu autour du vaisseau. Les ennemis pris dans ces explosions verront leur vitesse de vol diminuée, leur résistance des boucliers réduite et subiront de lourds dégâts de radiation. De plus, les ennemis en occultation seront révélés.
Elle fournit également un bonus passif aux statistiques Dégâts exotiques et Control Expertise.
Cette console peut être placée dans n'importe quel emplacement de console, mais ne peut être équipée que sur les vaisseaux Jem'Hadar Vangard, en un seul exemplaire.
Bonus de set de console "Vanguard"
Équiper les consoles des différents vaisseaux confère des bénéfices additionnels, dans le cadre du set de console « Vanguard Superiority ».
Bonus de set 2 pièces : Dissonance

+1% pénétration de bouclier par allié dans les 10 Km (Bonus 5 fois max)

Bonus de set 3 pièces : Anti-Flanking Maneuvers
Quand dommages subit sur l'arc arrière, +5% vitesse de rotation et +5% vitesse d'Impulsion pour 10 sec (cumulable 3 fois, activation une fois max sur 2 sec)

Bonus de set 4 pièces : Pledged to the Founders
+20% maximum de capacité de coque

Réduit le temps de recharge des capacités des consoles des vaisseaux Vanguard de 60 sec

Trait de vaisseau – Press the Advantage
Lorsque ce trait est équipé et que vous attaquez un ennemi par derrière, sa vitesse de rotation sera diminuée et vous bénéficierez d'une brève réduction du temps de recharge pour les compétences d'officier de passerelle tactique ou Pilot. Ce bonus est réinitialisé à chaque fois que vous touchez l'ennemi par derrière.
Arme expérimentale – Field-Distortion Overcharge Pulse
Cette Arme expérimentale spécialisée est conçue pour amoindrir la capacité de l'ennemi à garder ses boucliers intacts, mais la puissance extrême contenue dans ses éclairs a pour effet secondaire de causer des dégâts électriques aux ennemis touchés. Elle cible à 360°.
Elle peut être améliorée comme n'importe quelle arme standard, échangée avec une autre arme expérimentale ou placée dans l'emplacement correspondant sur n'importe quel autre vaisseau.
Fonctions uniques du Vanguard
Maîtrise de vaisseau niveau 6
Initialement, les vaisseaux Vanguard ne seront disponibles que pour les personnages jem'hadars. Cependant, nous avons créé une nouvelle méthode les rendant accessibles aux autres personnages de votre compte, quelle que soient leur allégeance.
Tous les vaisseaux Vanguard jem'hadar sont équipés d'un sixième niveau de maîtrise, cependant le Trait de vaisseau se débloquera toujours au niveau 5. Cette maîtrise de niveau 6 rend le vaisseau disponible pour tous les personnages de votre compte.
Jem'Hadar Wingmen
Les vaisseaux Vanguard sont accompagnés des deux pilotes d'élite jem'hadars fidèles. Ces pilotes experts seront aux commandes de leurs propres Jem'Hadar Vanguard
Heavy
Raiders en formation à vos côtés. Leur expérience approfondie des tactiques en équipe leur permet d'exécuter des manœuvres très efficaces pour vous.
Voici les manœuvres spéciales que vous pouvez leur ordonner de faire :
Polaron Strafing Maneuver

Arrivée en micro-distorsion à vos côtés, et envoient une salve de canon mitrailleur infligeant de lourds dégâts aux ennemis en face de vous sur une large zone.

Structural Reinforcement Maneuver
Augmente la Résistance de bouclier et applique un Soin de coque pendant plusieurs secondes.

Possibilité de cibler n'importe quel allié, dont votre autre Wingman.

Divergent Shielding Maneuver
Se concentre sur l'ennemi ciblé, drainant son bouclier pendant plusieurs secondes, et affaiblissant sa Résistance de boucliers.

Toutes les manœuvres partagent le même temps de recharge et seule une manœuvre à la fois peut être activée. Les Wingmen ne peuvent pas recevoir l'ordre d'attaquer une cible en particulier, mais ils pourront tout de même changer de cible rapidement, en fonction de celle que vous avez choisie.
S'ils sont détruits au combat, les Wingmen vous rejoindront à nouveau au combat après une courte période de verrouillage.
Source :
[PC] Statistiques et compétences des vaisseaux Jem'Hadar Vanguard et Cardassian Intelligence