Si vous avez des questions:
3D Ship Printing AMA 3/16/18 - 10AM PT
[PC] L'impression de vaisseaux en 3D est disponible !
https://gameprint.net/Startrek
A priori, il y a une promo pendant les 2 premières semaines d'ouverture:
Captains, we are offering a two week promotion to celebrate the launch of GamePrint. All ships are currently available at the base price. Get your ship today!
Allez personnaliser votre vaisseau, vous verrez ce nouveau bouton
[3D Print this Ship]
, cliquez dessus...

[Print Ship]
[Upload Now]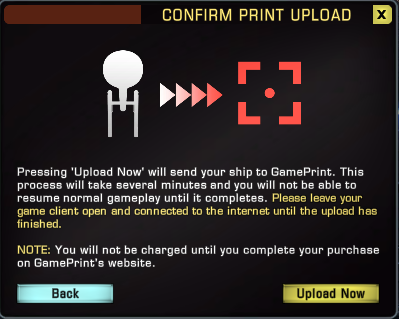 Upload en cours
Upload terminé, une fenêtre s'ouvre dans votre navigateur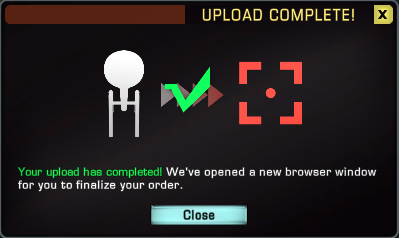 https://gameprint.net/product/BivRvDdtoBsvdBTqy
Pensez à sauvegarder le l'url
Je ne sais pas combien de temps le lien reste actif mais on peut supposer qu'il est possible de partager ses prints, ainsi, si vous ne possédez pas le vaisseau que vous souhaitez acheter, vous pouvez demander à ce que l'on vous crée un print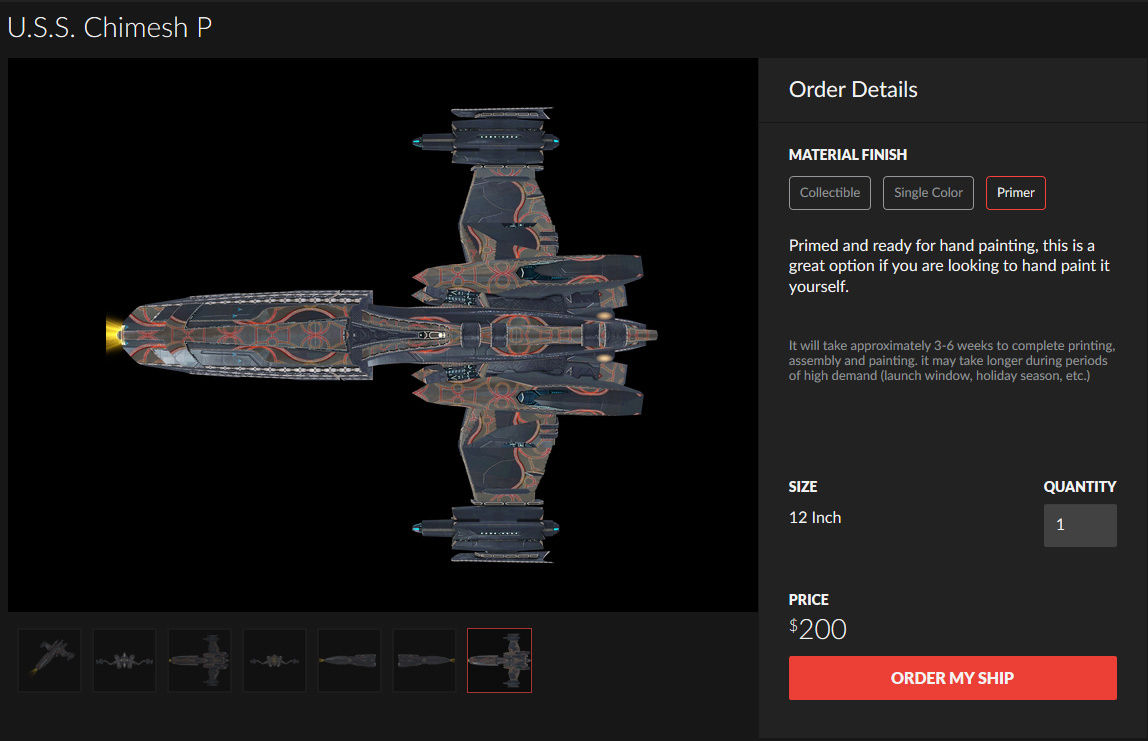 Vaisseaux indisponibles:
• Crossfield-class Science Vanguard
• Walker-class Light Exploration Cruiser
• Sarcophagus Dreadnought Carrier
• Explorer de surveillance multi-missions de classe Vesta
• Herald Baltim Raider
• Herald Quas Flight Deck Cruiser
• Herald Vonph Dreadnought Carrier
• Na'kuhl Acheros Battlecruiser
• Na'kuhl Daemosh Science Vessel
• Na'kuhl Tadaari Raider
• Sphere Builder Arehbes Destroyer
• Sphere Builder Denuos Dreadnought Carrier
• Sphere Builder Edoulg Science Vessel
• Tholian Tarantula Dreadnought Cruiser
• Son'a Collector Science Dreadnought
• Transporteur de classe Jupiter
• Navette de classe Delta
Les prix:
• 200 $ HT [Primer] A peindre (je ne pense pas que la peinture soit fournie ^^)
• 225 $ HT [Single color] Silver, Black, Gold ou Bronze
• 350 $ HT [Collectible] Entièrement peint à la main
Le port (pour la france):

La taxe et le prix final(exemples pour un vaisseau à peindre):