[ONE-PS4] Bienvenue aux festivités de notre 8ème anniversaire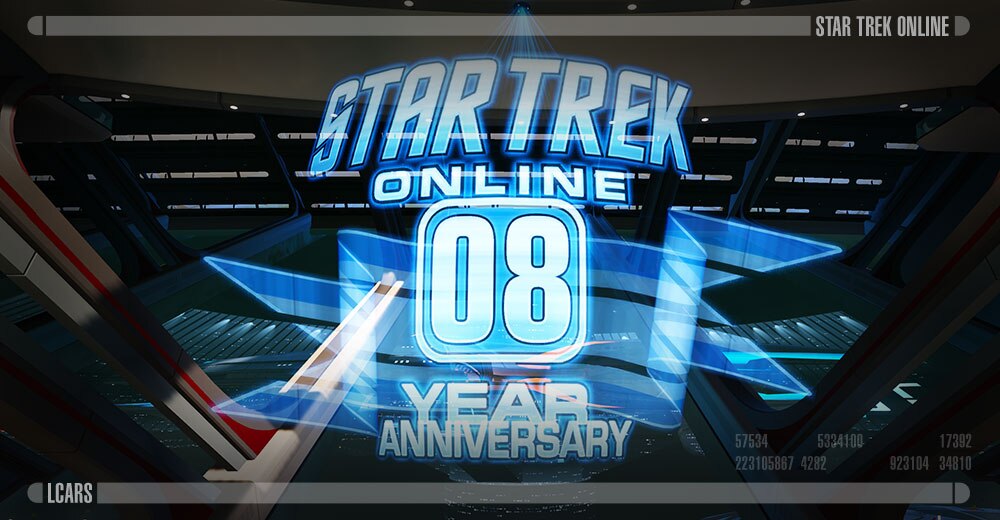 Quand vous créez un jeu vidéo, il n'y a aucune garantie. Je me souviens très bien, il y a de cela huit longues années, quand nous étions sur le point de sortir
Star Trek Online
: nous étions si fiers de ce que nous avions créé et nous avions hâte de le montrer au monde entier. L'équipe était curieuse de savoir comment le jeu serait reçu. Est-ce que les gens apprécieraient notre vision de cet univers si riche ? Est-ce qu'ils seraient nombreux à vivre leur rêve de devenir un capitaine de Starfleet ou de la Force de Défense Klingonne ? Les couloirs bruissaient de conversations à demi-mots, comme si nous discutions des fantômes de la passerelle 12, au sujet de la réussite du jeu et de sa durée de vie potentielle. La plupart des jeux en ligne ne survivent pas plus de quelques années. Pouvions-nous faire mieux ? Était-il possible de nous mesurer à la plus longue série
Star Trek
, avec sept ans d'activité ? Comme je l'ai dit, dans l'industrie du jeu vidéo, rien n'est garanti et le risque est partout... mais dans l'équipe de
Star Trek Online
, le risque, c'est notre métier.
J'ai aujourd'hui l'honneur d'annoncer que
Star Trek Online
fête ses huit ans, et a ainsi dépassé la longévité de toutes les séries
Star Trek
ayant jamais existé. Nous sommes désormais la pierre angulaire la plus solide de cette franchise vieille de 51 ans, et l'aventure continue, intense comme au premier jour. Après cette année où vous avez pu écouter Magic Carpet Ride de Steppenwolf à plein volume en lançant votre propre modèle du
Phoenix
, ou vous délecter des voix enchanteresses de l'équipe de
Star Trek Online
grâce à la Polyphonie Electronique Traditionnelle du 1er avril, j'imagine que vous pourriez demander au Cadet Tilly de l'U.S.S.
Discovery
ce qu'elle a pensé de 2017.
L'année passée a apporté au premier plan un arc narratif dont vous aviez pu avoir un avant-goût déjà en 2016, mais qui a véritablement pris son essor en 2017 avec l'introduction d'un nouvel et redoutable adversaire : les Tzenkethis. Mentionnée dans plusieurs séries, mais jamais vue à l'écran, cette race a offert une excellente opportunité à nos équipes artistiques et de design de se dégourdir les doigts avec la création d'un groupe d'ennemi à l'apparence et au gameplay uniques. L'Alliance a combattu et repoussé l'accès de folie génocidaire des Tzenkethis à travers le quadrant Alpha, non sans l'aide de quelques alliés emblématiques. Nous avons pu profiter du talent de J.G. Hertzler pour le doublage du Général Martok, et de l'incroyable Levar Burton dans le rôle de Geordi La Forge. Les efforts défensifs de l'Alliance ont connu des hauts et des bas tout au long de l'année, et nous arrivons enfin à un final épique avec la sortie de l'épisode de notre 8ème anniversaire : Scylla and Charybdis.
En plus de cette nouvelle trame narrative palpitante, nous avons implémenté des fonctionnalités fantastiques afin de vous aider à plonger encore plus profondément au cœur de l'univers de
Star Trek Online
. L'arrivée des Tzenkethis s'est accompagnée de fabuleuses files d'attente, ainsi que d'une toute nouvelle zone de combat dotée de mécaniques de jeu exclusives. Nous avons étendu le système de R&D avec la nouvelle école Kits and Modules, vous permettant ainsi de personnaliser encore plus votre expérience de combat au sol. Il y avait aussi l'ajout du PvE compétitif avec les « Wargames », qui ont permis aux joueurs de se mesurer à leurs adversaires sans avoir à en venir aux mains... pas directement, en tout cas. Cette nouveauté s'accompagnait d'un rééquilibrage et d'une refonte complète de nos compétences terrestres et spatiales. Les compétences ont été simplifiées et clarifiées, et les choix des capitaines ont été revus afin de nous assurer qu'ils soient tous viables. Plus tard au cours de l'année, nous avons implémenté le système Endeavor, offrant ainsi aux capitaines un nouveau défi à remporter régulièrement en quête de récompenses. Cela a non seulement permis de renforcer la communauté et de rapprocher ses membres, quel que soit leur progression dans le jeu, autour d'un contenu commun, mais aussi de montrer aux nouveaux joueurs des recoins de STO où ils n'avaient peut-être jamais mis les pieds. Enfin, dans la dernière saison de l'année, nous avons sorti une toute nouvelle spécialisation principale, le Miracle Worker, et notre tout premier bâtiment de flotte à cinq niveaux depuis le lancement du système de flotte.
L'année 2017 a été absolument fantastique pour la franchise
Star Trek
avec l'arrivée de la série
Star Trek: Discovery
, mais aussi pour
Star Trek Online
avec de fabuleuses mises à jour saisonnières riches en histoire et fonctionnalités. Nous prévoyons de mettre encore les bouchées doubles sur
Star Trek Online
en 2018, avec de nouveaux arcs narratifs et une mise à jour majeure au sujet de laquelle Morn ne tarira certainement pas d'éloges.
Avec plus de 160 épisodes, 8 années de mises à jour réussies, et encore bien d'autres à venir, les capitaines ne s'ennuieront pas de sitôt sur
Star Trek Online
.
Joyeux 8ème anniversaire, et à bientôt en jeu !
Stephen Ricossa
Producteur exécutif
Star Trek Online
Source :
[ONE] Bienvenue aux festivités de notre 8ème anniversaire
-
[PS4] Bienvenue aux festivités de notre 8ème anniversaire