[PC] Nouvel épisode : Mirrors and Smoke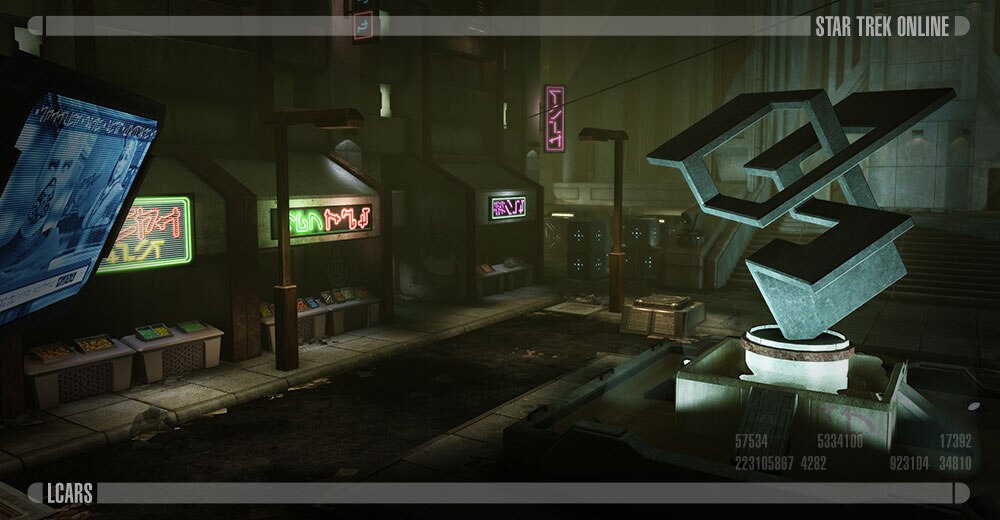 « Vous en êtes sûr ? Relancez le scan. » Kuumaarke était assise dans son siège de capitaine, mais semblait sur le qui-vive.
« Capitaine, je l'ai scannée trois fois, et j'ai vérifié les données moi-même à chaque reprise. Je n'ai plus le moindre doute en cet instant », dit Becaal, l'officier scientifique en chef du L.S.S.
Reskava
, en faisant son rapport à son supérieur. « La nébuleuse Gon'cra est synthétique, et d'après nos capteurs, elle est présente dans les environs depuis deux cents, voire trois cents ans, tout au plus. » Cela s'avérait être une information stupéfiante. Il savait que son capitaine, également une scientifique, comprenait entièrement ce que cette situation impliquait.
« Donc, c'est une nébuleuse artificielle, et créée récemment, qui plus est ! Je ne pense pas que nos amis de l'Alliance soient au courant d'un tel phénomène. Il se pourrait bien que nous ayons découvert quelque chose de complètement inédit ici... », l'esprit de Kuumaarke s'emballait. « Mais pourquoi ? Pourquoi quelqu'un fabriquerait une nébuleuse ? »
« Parlons-nous de pure spéculation, Capitaine ? Les nébuleuses sont réputées pour être des dangers à la navigation pour la plupart des espèces capables de voyage interstellaire. Il est préférable de ne pas les traverser, surtout si l'on peut simplement les contourner à l'avance. »
« Continuez », dit Kuumaarke qui écoutait avec attention.
« Ainsi, une nébuleuse serait un très bon endroit pour dissimiler quelque chose... ou un grand nombre de choses.  Un obstacle à la navigation qui brouille la plupart des capteurs, donc difficile à traverser et qui pourrait bien endommager, voire détruire votre vaisseau ? Voilà qui ferait un très bon camouflage, sous certaines conditions. »
« Je vois où vous voulez en venir. Intéressant. »
« À moins de prendre les précautions préalables... comme modifier votre bouclier et vos systèmes de survie, améliorer l'ensemble de vos capteurs... traverser une nébuleuse serait une opération pour le moins périlleuse. Un voyageur lambda qui passerait par ici se contenterait de voler à côté en disant "Oh, une nébuleuse", sans rien voir qui suggérerait que quelque chose se cache à l'intérieur... si tant est qu'il y prête la moindre attention. » Becaal avait vraisemblablement réfléchi un bon moment pendant ses scans.
Kuumaarke sourit. « Ceux qui ont fabriqué cette nébuleuse ont quelque chose à cacher. Et c'est bien trop tentant pour le laisser filer. Appelons donc nos amis. Je pense qu'ils seront tout aussi curieux de voir ça. »
Tandis que la menace des Tzenkethis plane toujours sur le système, un autre mystère a fait son apparition. Le mardi 25 avril, découvrez notre nouvel épisode « Mirrors and Smoke » et révélez les secrets de la nébuseuse Gon'cra. « Mirrors and Smoke » sortira avec la Saison 13 – Escalation, et poursuivra l'arc narratif « New Frontiers ». Il vous permettra de gagner de formidables récompenses échelonnées sur plusieurs semaines.
« Mirrors and Smoke » sera accessible pour une durée limitée à tous les joueurs de niveau 10 et supérieur (les joueurs romuliens doivent avoir sélectionné une faction). Après cela, il sera ajouté à la progression normale de notre Journal de mission.
Ryon "Melange" Levitt
Content Designer
Star Trek Online
Source :
[PC] Nouvel épisode : Mirrors and Smoke