[ONE-PS4] Of Signs and Portents – Semaine 1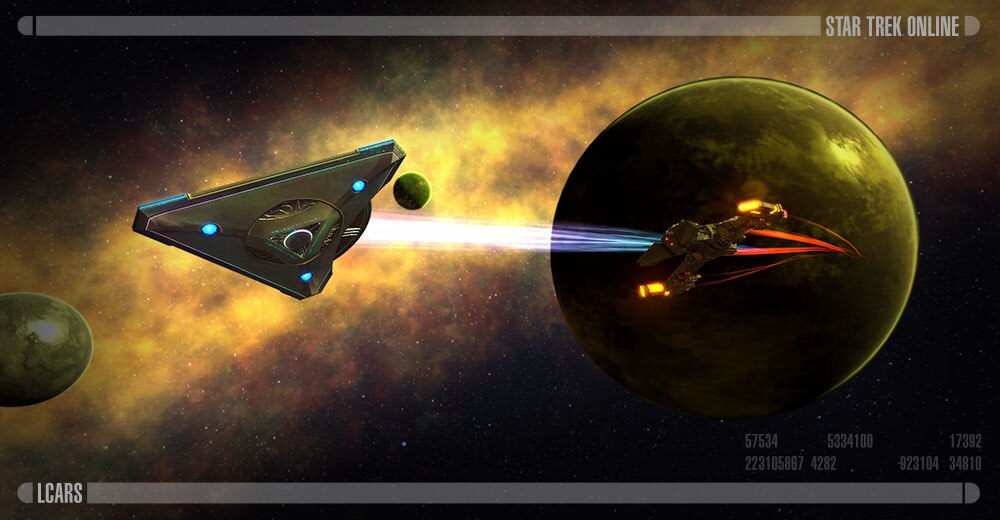 Chaque semaine, nous vous proposerons une récompense supplémentaire pour la complétion de l'épisode « Of Signs and Portents ». Cette semaine, nous vous offrons le
Braydon Reconnaissance Deflector Array.
De plus, la première complétion de cette mission sur votre compte cette semaine vous accordera une boîte
Featured Episode Weekly Reward en récompense.
Ce cadeau spécial vous permet de choisir entre un
Enhanced Universal Tech Upgrade
ou une boîte
Captain Specialization Point
accordant immédiatement un point de spécialisation au personnage qui l'ouvre. La boîte-cadeau hebdomadaire, le Tech Upgrade et la boîte contenant le point de spécialisation sont liés au compte et peuvent être échangés librement entre vos personnages. Pour bénéficier du point de spécialisation, votre personnage doit être de niveau 50 ou supérieur.
L'utilisation créative des particules subatomiques, originalement destinée à préparer les vaisseaux à explorer l'espace en toute sécurité, a conduit au développement de l'ensemble d'équipement Braydon Reconnaissance Technologies. Ce set utilise des particules de Braydon pour améliorer l'indice de détection de la furtivité du vaisseau et ses résistances à divers debuffs, et pour lui permettre d'échapper à des situations périlleuses.
Le Braydon Reconnaissance Deflector Array fait partie du set
Braydon Reconnaissance Technologies
. Obtenez les pièces de ce set pour débloquer de puissants bonus :
Braydon Reconnaissance Technologies
Braydon Particle Detection (2 pièces)
Ce bonus 2 pièces augmente la Perception et la Puissance auxiliaire de base de votre vaisseau, et offre un bonus de Puissance auxiliaire proportionnel à votre Puissance auxiliaire actuelle.
Braydon Engine Infusion (3 pièces)
Ce bonus 3 pièces augmente la Puissance des moteurs et l'Expertise d'impulsion de votre vaisseau, et réduit le temps de recharge de votre transdistorsion.
Advanced Braydon Cross-Wiring (4 pièces)
Ce bonus 4 pièces réduit la durée du verrouillage de « Shield Loss Safties » (un bonus passif du bouclier) et augmente l'efficacité de « Micropulse Overcharge » (un pouvoir actif du moteur).
Nous révélerons la récompense suivante de l'épisode « Of Signs and Portents » la semaine prochaine.
John Leavens
Systems Designer
Star Trek Online
Source :
[ONE] Of Signs and Portents – Semaine 1
-
[PS4] Of Signs and Portents – Semaine 1