[ONE-PS4] Les Armadas arrivent sur console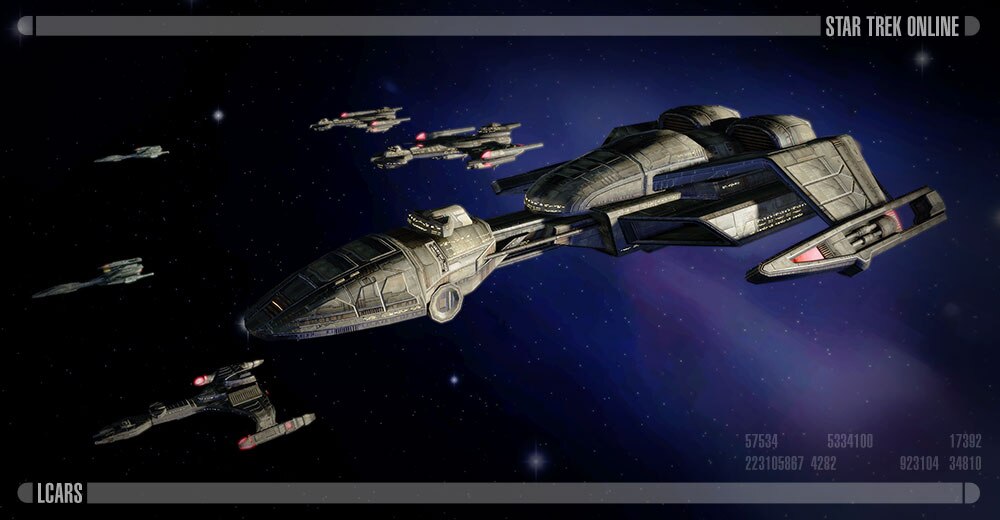 Avec la sortie d'Agents of Yesterday sur Xbox One et PlayStation 4, les capitaines auront bientôt la possibilité de rassembler leurs flottes individuelles en une puissante Armada. Voici comment cela fonctionne :
Les flottes pourront très bientôt se regrouper pour former de larges Armadas afin de partager leurs ressources et accélérer la construction de leurs apprécierez. Les Armadas sont composées d'une flotte de haut niveau, appelée la flotte Alpha, qui peut inviter jusqu'à trois autres flottes à devenir ses subordonnées, les flottes Beta. Ces flottes Beta peuvent à leur tour également inviter jusqu'à trois autres flottes à devenir leurs flottes subordonnées Gamma, permettant ainsi à l'Armada de contenir un maximum de treize flottes.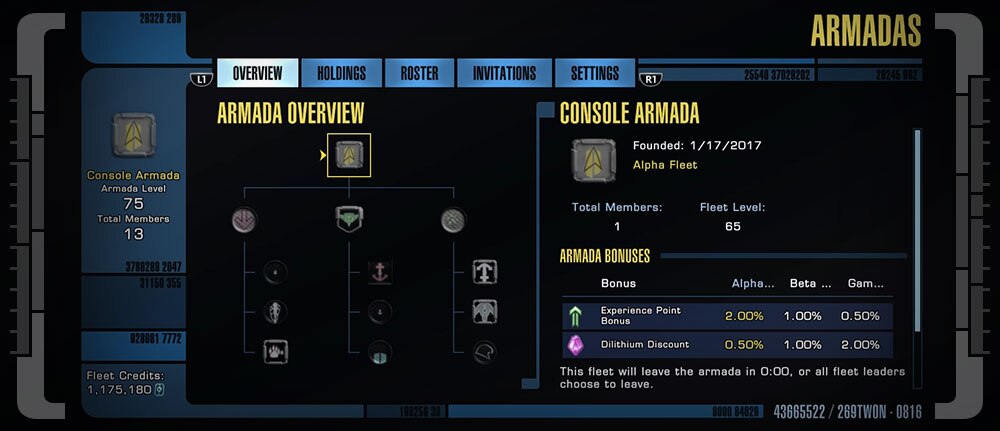 Toutes les flottes dans une Armada partage un même canal de discussion et peuvent apporter des ressources pour contribuer aux projets de flotte de n'importe quelle autre flotte de l'Armada. Les flottes pourront contrôler les projets auxquels les autres flottes pourront contribuer, et décider également quelles ressources leurs membres de flotte peuvent donner aux autres flottes, tout comme quelles ressources les autres flottes peuvent leur offrir.
Toutes les flottes d'une même Armada bénéficieront de bonus basés sur le niveau de flotte total de toutes les flottes présentes dans l'Armada. Ces avantages peuvent comprendre des promos sur le dilithium nécessaire pour les projets de flotte, ou des points de compétence bonus. Ces récompenses varieront également en fonction de la position de la flotte dans l'Armada, avec les flottes Alpha recevant le plus grand nombre de bonus de points de compétences au sein de l'Armada et les flottes Gamma recevant de meilleures réductions de dilithium que les flottes Alpha et Beta.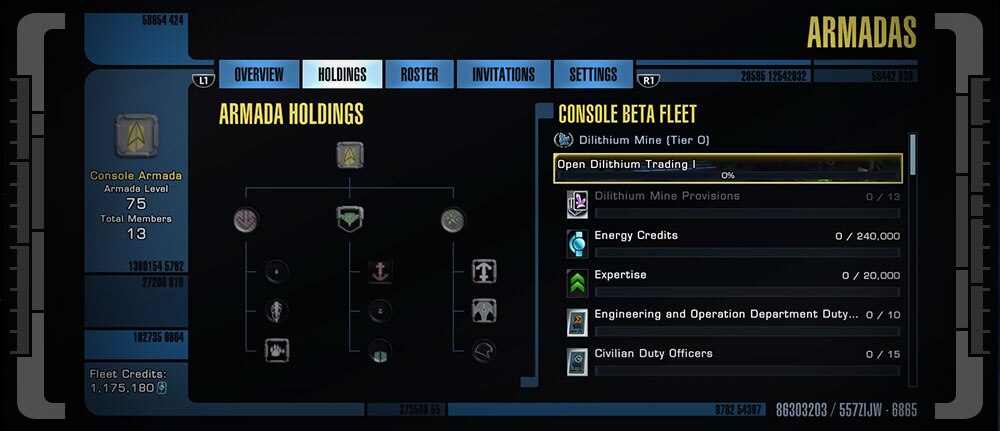 Cependant, la flotte Alpha d'une Armada n'aura pas le contrôle sur toutes les flottes de l'Armada. La flotte Alpha peut seulement inviter ou expulser les flottes Beta qui lui sont directement inférieures. Les flottes Beta, en retour, sont les seules flottes qui peuvent inviter ou expulser les trois flottes Gamma en-dessous d'elles. De plus, si une flotte Beta quitte ou est expulsée d'une Armada, elle emportera toutes ses flottes Gamma avec elle, et deviendra la flotte Alpha d'une toute nouvelle Armada, avec ses flottes Gamma devenant automatiquement des flottes Beta.
Bien que les flottes puissent quitter une Armada quand bon leur semble, rejoindre une Armada reste un engagement de taille. Tout flotte qui rejoint une Armada ne pourra bénéficier d'aucun des bonus ou contributions de l'Armada avant la fin d'une période probatoire. Pendant cette période d'essai, n'importe quel chef de flotte au-dessus d'elle peut l'expulser de l'Armada sans délai. Ou, si l'un de vos chefs de flotte décide que cette Armada n'est pas l'environnement qui leur correspond, leur flotte peut également quitter immédiatement l'Armada.
Le temps d'attente pour toute tentative de départ ou d'expulsion d'une Armada s'applique uniquement aux flottes disposant de plusieurs chefs. Pendant cette période d'attente, la flotte ne peut bénéficier d'aucun des bonus ou contributions de l'Armada. Elle peut être évitée si tous les chefs de flotte acceptent la procédure de départ ou d'expulsion. Alternativement, si n'importe lequel des chefs de flotte est en désaccord avec la décision prise, ils peuvent annuler le départ ou l'expulsion à n'importe quel moment avant la fin du temps d'attente. Nous espérons que ce système réduira les possibilités d'abus au cas où un chef de flotte prend une décision sans l'accord de ses coéquipiers.
Nous espérons que vous apprécierez de former vos Armadas, Capitaines. Ce nouveau système sera disponible avec le lancement d'Agents of Yesterday sur Xbox One et PlayStation 4 le 14 février.
Source :
[ONE] Les Armadas arrivent sur console
-
[PS4] Les Armadas arrivent sur console