[PC] 7ème anniversaire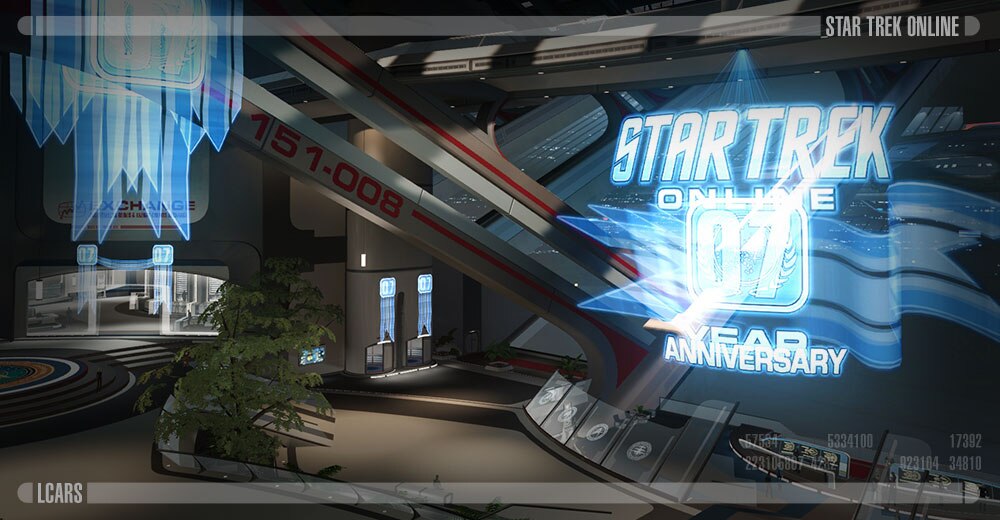 7 années d'aventure !
Star Trek Online
fête son 7ème anniversaire, soit autant que les plus longues séries de
Star Trek
! Je me souviens qu'avant le lancement de STO, pendant l'hiver de 2010, l'équipe de développement toute entière espérait que le jeu allait durer longtemps, qu'il ferait vivre des aventures extraordinaires aux joueurs, et qu'il rassemblerait la communauté de
Star Trek
autour d'histoires inédites, dans une galaxie familière. Atteindre ce cap des 7 ans est déjà un exploit en soi, mais je suis fier d'annoncer que nous avons eu par la même occasion
l'année la plus riche en événements de l'histoire du jeu
. Pour nous, cela veut dire que la communauté de
Star Trek Online
est toujours présente et fidèle, et que l'univers de
Star Trek
est plus vivant que jamais.
2016 a été une très belle aventure, puisque nous avons célébré le 50ème anniversaire de la série originale tout au long de l'année. Les capitaines ont dû faire face aux conséquences de l'utilisation des voyages temporels de la fin de l'Iconian War et ils ont découvert un mystère impliquant les Na'kuhls et menaçant notre passé. Au cours d'une intrigue se déroulant pendant presque une année, et culminant avec la sortie d'
Agents of Yesterday
, ils ont pu lever le voile sur ce mystère et déjouer cette menace. Tout cela, en ayant la chance de côtoyer les acteurs originaux de
Star Trek
dans leurs rôles emblématiques, tels que Walter Koenig, Chase Masterson, Matt Winston, Kipleigh Brown, et Chris Doohan.
En plus de cet arc narratif, la principale nouveauté de l'année a été la refonte complète du système de compétences. Il est désormais plus clair, accessible, et rend les choses plus évidentes pour vous aider à faire le bon choix dans l'optimisation de votre vaisseau. De l'équilibrage à la réorganisation des compétences, en passant par une interface plus intuitive pour l'utilisateur, ce système est le cœur de
Star Trek Online
, et sa modernisation le rend plus facile d'utilisation pour l'ensemble de la communauté.
L'année s'est achevée avec la sortie de
Star Trek Online
sur Xbox One and PlayStation 4. Ce portage s'est avéré être une tâche herculéenne pour l'équipe, et je suis très fier de ce qu'elle a accompli. Concevoir une nouvelle configuration des touches à la manette, repenser entièrement l'interface, remettre au goût du jour tout le système d'éclairage... Tous ces défis remportés avec brio et le succès que nous avons rencontré sur console laissent présager de grandes choses pour le futur.
2016 a été plus qu'une année formidable pour
Star Trek Online
. En fait, il s'agit de la meilleure année que nous ayons vécue jusqu'à présent. Nos festivités du 7ème anniversaire débuteront avec l'épisode de série « Of Signs and Portents », qui immergera davantage les capitaines dans l'histoire à venir et leur offrira la possibilité d'acquérir un Lukari Ho'kuun Science Vessel, dont le design a été sélectionné par la communauté. Nous prévoyons la sortie d'encore plus de contenu extraordinaire pour cette année 2017, et la continuation d'une histoire palpitante que les joueurs pourront suivre jusqu'en 2018.
En plus de ces histoires incroyables et des nouvelles fonctionnalités en cours de préparation, n'oubliez pas que la toute nouvelle série
Star Trek: Discovery
verra le jour cette année. De fantastiques moments attendent les fans de Star Trek à travers le monde, alors c'est l'occasion idéale de sauter le pas et rejoindre
Star Trek Online
pour découvrir l'équivalent de 7 années d'aventures ! Venez voir ça de vos propres yeux !
Joyeux 7ème anniversaire, et à bientôt en jeu !
Stephen Ricossa
Producteur exécutif
Star Trek Online
Source :
[PC] 7ème anniversaire