L'équipe raconte : Souvenirs de trekkies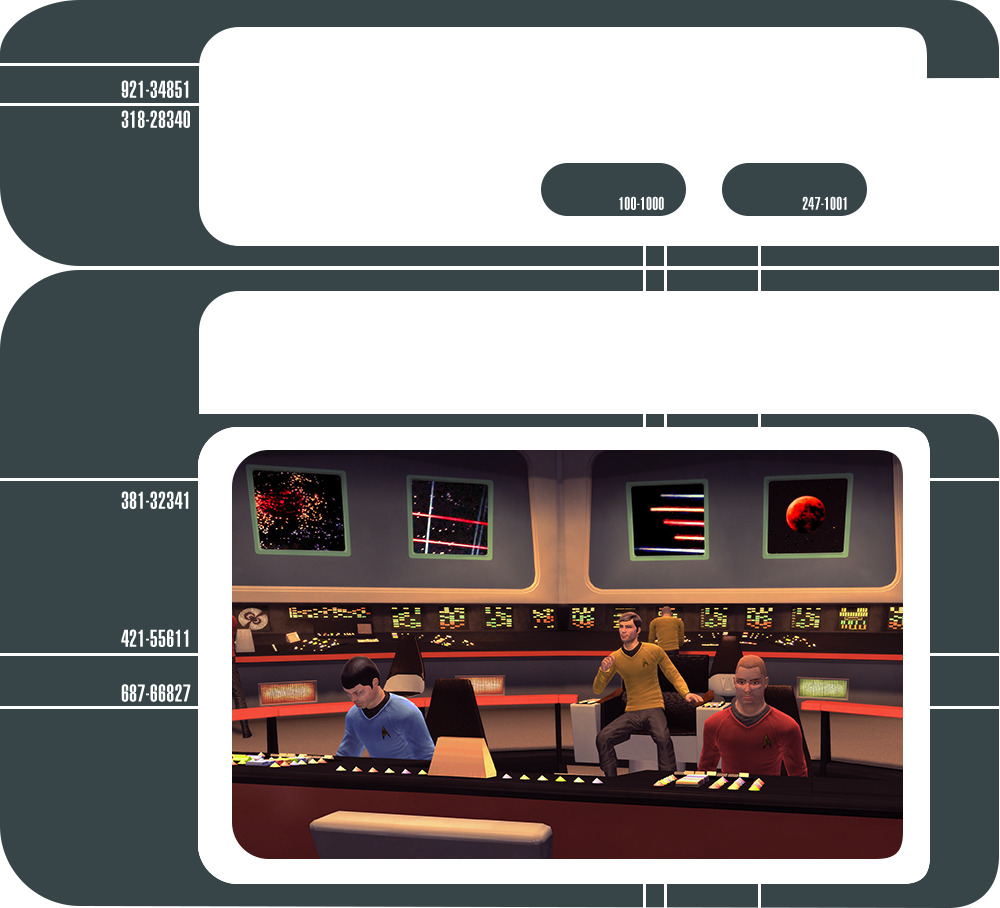 Ci-dessous, plusieurs membres de l'équipe de création de contenu de Star Trek Online partagent ce qui les a menés à devenir des fans de Star Trek.
***
L'épisode "Gamesters of Triskelion" - cette musique de combat épique, ces armes incroyables, l'arène, et les cerveaux. C'est ce qui a marqué le début de ma longue histoire d'amour avec Star Trek.
En 1972, nous avons emménagé pendant une année dans la ferme de mes grands-parents. J'étais en CE1, et nous n'avions jamais eu de télévision jusqu'à présent. Mon grand-père possédait cette vieille télévision "portable" en noir et blanc, avec des sortes d'oreilles de lapin afin de faciliter la réception. Elle était placée sur une petite table, tout près de la cuisinière en bois sur lequel ma grand-mère cuisinait. C'était une vieille maison de campagne.
Mon grand-père m'a initié à Star Trek, qui était l'une de ses émissions préférées. Elle était diffusée juste après Dragnet, dans la soirée. Lui, moi, et quelques 3 à 8 cousins qui nous rejoignaient à l'occasion, nous nous asseyons autour de cet écran de 15 pouces pour nous perdre dans les étoiles et plonger dans la magie de Star Trek - tout en étant persuadés que l'Enterprise existait vraiment. Je revois encore cette juxtaposition des phaseurs et de la cuisinière en bois.
Il m'a fallu attendre d'être en sixième avant de voir Star Trek en couleur. Je savais juste que c'était en couleur grâce aux magasines de fans qu'ils vendaient au magasin de bande-dessinées. C'est là que j'ai vu une annonce pour ma première convention de Star Trek au collège communautaire. Oh là là ! J'ai graissé la patte de mon cousin ainé pour me conduire à la convention, j'y ai rencontré Nichelle Nichols et dépensé toutes mes économies pour m'offrir un patch brodé du corps des ingénieurs de Starfleet, un manuel technique UFP et ce qui devait être un tribule fabriqué par des fans. Ma mère m'a accroché le badge sur mon t-shirt pour la photo de classe. Je suis un trekkie pour la vie, et ce patch est toujours en ma possession. Aucune idée de ce qui a pu arriver au tribule.
Thomas Foss
Principle Designer
***
J'ai commencé à regarder Star Trek alors que La Nouvelle Génération était encore à la télé. Je me souviens même du jour où Deep Space Nine a été officiellement annoncé. Je n'étais encore qu'un gamin, et la série s'est terminée lorsque j'avais 10 ans. Mais j'ai suivi la série religieusement, enfin, aussi religieusement que le permettait ma vie d'écolier. Chaque nouvel épisode était diffusé le lundi soir, si je me souviens bien, et faisait partie de mes loisirs après l'école. Des extraterrestres, des nouveaux mondes, les holodecks - c'était vraiment magique. Et le casting : Picard avec son air autoritaire ; Riker, tellement charismatique ; Geordi et Data avec leur intelligence hors pair ; Worf qui était si cool ; et Wesley, l'enfant que j'aurais rêvé d'être. Et au passage, j'étais clairement dans le camp de Beverly (pour peu qu'un tel camp ait existé à l'époque).
Je pense que mes deux souvenirs les plus marquants de LNG ont été :


Ce terrible jeu de réalité virtuelle au cours de l'épisode "The Game" de la Saison 5 : "comment des gens possédant des holodecks peuvent trouver ce jeu amusant ? Je ne comprends pas ! Et je ne vois même pas comment il fonctionne !" Évidemment, j'avais du mal à comprendre le concept d'addiction quand j'étais enfant.

Le père de mon meilleur ami était un véritable sosie du Commandant Riker. Il avait même une photo de lui dans un uniforme de Starfleet, et j'aurais juré qu'il s'agissait d'une photo de Jonathan Frakes. J'étais certain que si jamais ils avaient besoin d'un remplaçant pour le tournage, le père de mon ami aurait pu s'en charger sans hésiter.

Depuis que j'ai commencé à travailler pour Cryptic, j'ai tout regardé depuis le début et j'ai appris à apprécier toutes les séries que j'avais manquées. Mais ce qui m'a réellement fasciné, c'est de revoir les scènes de LNG dont je me rappelais, et celles que j'avais entièrement oubliées. Vingt-cinq ans plus tard, La Nouvelle Génération est toujours aussi passionnante que dans mes souvenirs.
Ryon "Melange" Levitt
Content Designer
***
Ma première expérience avec Star Trek est survenue alors que j'avais tout juste 5 ans. J'ai allumé la télé et je suis tombé par hasard sur une rediffusion de LSO, et le volume était plutôt fort. Je pense qu'il s'agissait de l'épisode
Day of the Dove
, parce que je me souviens qu'il y avait de nombreux combats à l'épée.
Ma mère est entrée dans la pièce pour voir d'où venait tout ce raffut, et m'a demandé ce que je regardais.
Lorsque j'ai répondu "Je ne sais pas !", elle jeta un œil à l'écran, sourit, et s'assit à côté de moi pour tout me dire au sujet de Star Trek : ça, c'est le capitaine Kirk, les méchants là-bas ce sont les Klingons, cet homme a de drôles d'oreilles parce qu'il vient d'une planète du nom de Vulcain, le vaisseau s'appelle l'
Enterprise
, etc, etc.
Il s'est avéré que ma mère regardait LSO lorsque la série passait pour la première fois à la télé, et c'était une vraie fan. Nous avons souvent regardé la série ensemble après ça, ainsi que les films qui sont sortis quelques années plus tard.
Paul Reed
Content Writer
***
J'ai baigné dans La Série Originale toute mon enfance. C'était vers le milieu ou la fin des années 70, et la série était diffusée à la télé à cette époque-là. Je ne pourrais pas vous dire quel a été mon premier épisode. Ma sœur était bien plus âgée que moi, et c'était une vraie geek. Elle m'a initiée à Star Trek ainsi qu'à toutes sortes de films de monstres et de science-fiction. Je me souviens lorsqu'elle m'emmenait dans des cinémas en plein air pour voir des films d'horreur, et quand on restait éveillés tard le soir à regarder toutes sortes d'émissions de science-fiction. Le premier livre qu'elle m'a offert était le roman illustré de TOS "A Piece of the Action". C'était un petit bouquin format poche avec des images de la série, et les dialogues de l'émission - un peu comme une bande-dessinée en fait.
Dès que La Nouvelle Génération est sortie, je me suis rué dessus, puis sur Deep Space 9, Voyager et Enterprise. Lorsque j'ai déménagé en Californie et rencontré ma femme, le premier film que nous avons regardé ensemble était Free Enterprise. Si vous ne l'avez pas vu, il s'agit d'une comédie au sujet de deux amis obsédés par Star Trek qui rencontrent William Shatner. Peu de temps après, nous avions un rendez-vous quotidien afin de regarder LNG tous les mercredis ensemble à la télé. Quelques années plus tard, nous avons renouvelé nos vœux de mariage sur la passerelle de l'Enterprise à la convention Star Trek Las Vegas, et avons eu l'honneur de voir Denise Crosby présider la cérémonie.
Star Trek, c'est toute ma vie.
LVP
Al "Captain Geko" Rivera
Design Lead
Source :
L'équipe raconte : Souvenirs de trekkies