Nouvel Épisode de série : Time and Tide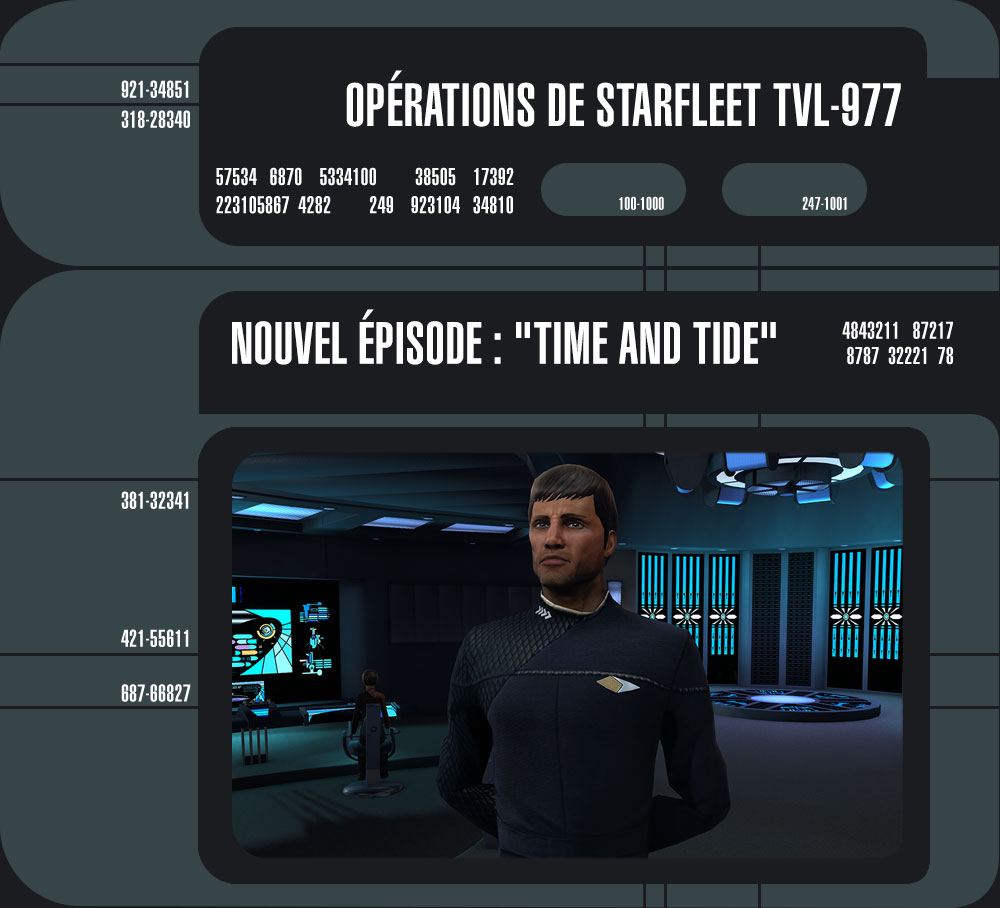 Journal du capitaine, U.S.S. Pastak, Supplément
L'un des plus grands honneurs qui puisse être donné à un capitaine de Starfleet est d'établir le contact pour la première fois avec une nouvelle civilisation. Pour un agent temporel, il s'agit d'entrer en contact avec une civilisation faisant ses premiers pas dans les voyages temporels.              
Conserver l'intégrité d'une ligne temporelle est un travail d'équilibriste pour nous. Nous devons offrir à nos ancêtres suffisamment d'informations pour les protéger contre des incursions en provenance du futur, sans pour autant entraver ou modifier leur développement naturel. La technique qui a toujours fonctionné au mieux jusqu'à présent est de mettre seulement quelques individus au courant des événements futurs, des personnes qui comprennent la gravité des questions temporelles.
Dans cette optique, j'ai l'honneur d'emmener aujourd'hui avec moi l'un des plus grands capitaines de l'histoire afin d'assister à la signature des Accords temporels - l'événement historique qui a stabilisé la ligne temporelle. Nous pensions qu'il s'agissait du meilleur moyen d'établir un premier contact officiel, non seulement avec une civilisation entrant dans l'ère des voyages temporels, mais également avec un potentiel agent temporel.
Le capitaine nous vient d'une période-clé de l'histoire ; le début du 25ème siècle. C'est à ce moment-là que la Fédération et ses alliés sont entrés dans une nouvelle ère d'exploration d'une frontière jusque-là obscure : le temps lui-même. Sa découverte a mis au jour une toute nouvelle série de dangers - des dangers que j'espère pouvoir les aider à surmonter.
***
Le jeudi 28 janvier, célébrez le sixième anniversaire de Star Trek Online en profitant de notre tout dernier Épisode de série, "Time and Tide", où les capitaines pourront faire un bond dans le temps afin d'assister à l'événement historique de la signature des Accords temporels.
"Time and Tide" poursuit l'histoire de notre dernière saison et sa nouvelle trame narrative, et vous accordera au fil des prochaines semaines de fabuleuses récompenses exclusives, en plus des cadeaux que vous recevrez en participant à notre événement d'anniversaire journalier.
Pour une durée limitée, "Time and Tide" sera disponible à tous les joueurs à partir du niveau 10 (les personnages romuliens devront avoir sélectionné une faction). Après cela, cet épisode sera ajouté à la suite de votre journal de mission selon notre progression habituelle. Tout comme la première zone du quadrant Delta, les joueurs de niveau inférieur à 50 pourront accéder à la mission depuis le portail de la sphère de Dyson près du Système Jouret dans le quadrant Bêta tant qu'elle leur sera disponible.
Nous sommes fiers de vous présenter ce nouvel Épisode de série afin de célébrer notre sixième anniversaire, et nous avons hâte de vous retrouver en jeu pour le lancement de "Time and Tide".
Source :
Nouvel Épisode de série : Time and Tide