Zahl Heavy Cruiser T6 - Spécifications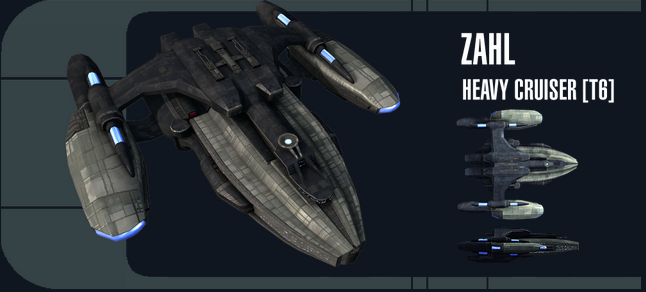 Le Zahl
Heavy
Cruiser T6 est déjà célèbre au sein de la coalition pour sa durabilité et sa polyvalence. Il est également relativement maniable pour un vaisseau de cette taille.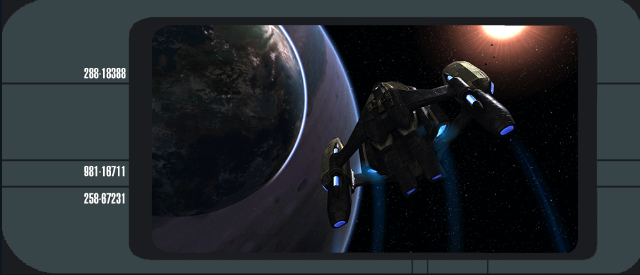 Ce vaisseau dispose d'une station d'officier de passerelle Lieutenant scientifique/Intel et d'une station de Lieutenant-commandant universel/Command.


Tier : 6

Faction : Tous

Rang requis : Contre-amiral / Général de brigade / Sous-amiral I

Disponibilité : Year of Hell Lockbox

Résistance de la coque : 41 400 (au niveau 40), 47 610 (au niveau 50), 55 200 (au niveau 60)

Modificateur de bouclier : 1,3

Équipage : 500

Armes : 4 Avant, 4 Arrière

Emplacements d'accessoires : 4

Stations d'officiers de passerelle : 1 Lieutenant-commandant tactique, 1 Enseigne ingénieur, 1 Commandant ingénieur, 1 Lieutenant scientifique/Intel, 1 Lieutenant-commandant universel/Command

Modifications de console : 4 tactiques, 5 ingénierie, 2 scientifiques

Vitesse de rotation de base : 8,5 degrés par seconde

Modificateur d'impulsion : 0,15

+10 Puissance des armes, +5 Puissance du bouclier, +5 Puissance du moteur

Console universelle - Temporal Shielding Matrix

Starship Ability Package (Croiseur)

Absorptive Plating

Rapid Repairs

Enhanced Plating

Armored Hull

Invincible (Trait de vaisseau)

Réseau de communications de Croiseur

Commandement - Manœuvre stratégique

Commandement - Modulation de fréquence de bouclier

Manœuvre - Efficacité du système d'armement

Commandement - Attraction des tirs

Console universelle - Temporal Shielding Matrix
Le Zahl
Heavy
Cruiser est livré équipé de la console universelle Temporal Shielding Matrix. Les boucliers temporaires, bien que très efficaces contre les armes à chroniton et autres types d'armement temporels, n'offrent pas une protection suffisante comparée aux technologies de boucliers modernes pour pouvoir être utilisée seule. Ils sont néanmoins toujours utiles pour renforcer les boucliers existants, et c'est exactement ce que cette matrice est censée faire. La console Temporal Shielding Matrix a été spécifiquement conçue pour faciliter de rapides afflux d'énergie pendant lesquels vous bénéficiez d'immunités additionnelles aux réductions de vitesse de mouvement et d'une résistance aux dégâts accrue, et qui peuvent infliger de légères anomalies temporelles aux vaisseaux ennemis afin d'augmenter les temps de recharge de leurs compétences.
Cette console universelle accorde également un bonus passif à votre capacité et régénération de bouclier.
Ce modificateur de console peut être équipé sur les vaisseaux de la coalition (Krenim, Nihydron and Zahl) dans n'importe quel emplacement de console, en un seul exemplaire.
Invincible (Trait de vaisseau)
En atteignant le niveau 5 de Maîtrise de vaisseau à bord du Zahl
Heavy
Cruiser, vous débloquerez le trait de vaisseau Invincible. Tant qu'il est équipé et que votre coque est gravement endommagée, votre vaisseau devient totalement invincible pendant un court instant. Pendant cette période, tous les soins de boucliers et de coque entrants sont grandement améliorés. Ne peut se déclencher qu'une fois toutes les deux minutes.
Ensemble Coalition Timeline Manipulation
Cet ensemble de deux pièces comporte les consoles trouvées sur le Zahl
Heavy
Cruiser et le Krenim Imperium Warship. Voici les deux consoles universelles appartenant à ce set :


Console universelle - Timeline Analysis Sensor Grid

Trouvé sur le Krenim Imperium Warship

Console universelle - Temporal Shielding Matrix

Trouvé sur le Zahl Heavy Cruiser

Bonus de set


Temporal Phasing (2 pièces)

Activer n'importe quelle capacité d'officier de passerelle scientifique déclenche un léger déphasage temporel de votre vaisseau, lui accordant une défense et résistance énergétique accrue. Cet effet est cumulable 5 fois.