Le Prométhée de classe était hautement classifiés Fédération vaisseau spatial conçu pour l'espace lointain missions tactiques. Il était l'un des plus avancés de Starfleet navires en exploitation au cours de la seconde moitié du 24ème siècle .
Histoire
Cette classe « prototype , l' USS Prometheus , a été lancé dans les chantiers maritimes Beta Antares dans le secteur de l'Antares sur la date stellaire 50749.5 . Au moment de son lancement, le Prométhée était si hautement classifié que seules quatre personnes au total ont été formés de Starfleet pour faire fonctionner le prototype. ( VOY : " Message in a Bottle ")
Un Prométhée vaisseau de classe à la Bataille de Procyon V
Dans une chronologie alternative , les navires de l' Prométhée de classe ont été parmi la flotte de la Fédération qui a engagé les forces des Constructeurs de Sphères lors de la Bataille de Procyon V dans le 26ème siècle ( ENT : " Azati Prime ").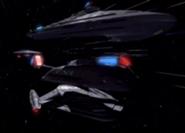 Caractéristiques techniquesSystème de propulsion
Le moteur à distorsion à bord du Prométhée classe a été conçu pour aller plus vite à des vitesses de chaîne que toute autre catégorie de navire dans la flotte à l'époque. Il était capable d'atteindre des vitesses dépassant 9,9 chaîne .
Systèmes de défense
Le Prométhée classe a été conçu avec un niveau sans précédent de l'automatisation, et, combinée à ses systèmes avancés de tactiques, était l'un des navires de combat les plus puissants du Quadrant Alpha . Les principaux systèmes de combat à bord du Prométhée inclus régénérative blindage , armure ablative la coque , ainsi que phaseurs et torpilles à photons .

Une caractéristique unique inclus dans le Prométhée conception a été le mode assaut multi-vectorielle , qui ont autorisé le navire se séparer en trois sections semi-indépendants qui pourraient fournir chaque force massive contre une cible ennemie. Les trois sections ont été capable de distorsion. Dans ce mode, le Prométhée pourrait facilement désactiver une nébuleuse de classe à chaîne , ou un deridex D' classe sur le champ de bataille. ( VOY : " Message in a Bottle "). Alors que les cours de starship d'autres ont des capacités similaires, comme le Galaxy -class avec sa soucoupe séparation caractéristique, généralement la section soucoupe de ces classes n'a pas eu d'entraînement de chaîne et des armes limitées. ( TNG : " Encounter at Farpoint "," The Arsenal of Freedom "," Le meilleur des deux mondes, Partie II »)
D'autres systèmes
En plus des systèmes d'automatisation standard, le Prométhée de conception de classe également en vedette holoemitters sur chaque plate-forme , ce qui a permis du navire hologramme médical d'urgence (Mark II) pour accéder à toutes les zones du navire (la plupart des EMHs se limitaient à l'infirmerie seulement).
Contrôles de premier niveau pour le système de ventilation se trouvaient dans le tube de Jefferies 17, qui se trouvait jusqu'à cinq ponts de l'infirmerie. ( VOY : " Message in a Bottle ")
Design d'intérieurPont principal
Le fait que le Prométhée classe a été principalement conçu pour le combat se reflète dans le design de son pont . Le pont a été évidemment conçu par souci d'efficacité, en fournissant l' officier commandant un accès visuel à toutes les grandes gares lorsque vous êtes assis dans le fauteuil de commandement. Directement en face de la chaise de capitaine , en contrebas vers le bas avec trois étapes, a été le lieu de l' officier des opérations et conn stations, associés dans un large console. Les deux agents partagent une vue imprenable sur le principal écran principal avec le commandant. Toutes les autres stations sont montées contre le mur, la course autour de la longueur de la chambre. Directement à l'arrière de la chaise du capitaine était le maître systèmes d'affichage , avec l'ingénierie et les stations tactiques à gauche et à droite respectivement, et aux portes gauche et à droite, au-delà de ces stations, étaient le capitaine qui donne accès à la fois la turbolift système. ( VOY : " Message in a Bottle ")
Informations générales
Le Prométhée classe a été conçue par Star Trek: Voyager principal illustrateur Rick Sternbach et affichée comme un modèle CGI par la Fondation d'imagerie . Les Prometheus de classe intérieurs ont été conçus par Voyager décorateur James Richard , en utilisant à nouveau vêtus parties de la re-création USS Excelsior pont que James avait fait pour " Flashback ", l' USS Voyager infirmerie, et un certain nombre de nouvelles séries. Un an plus tard, le jeu de pont a ensuite à nouveau être réparé, pour la Nouvelle -classe USS Equinox .
Vitesse maximale
Dialogue dans "Message in a Bottle" suggère que 9,9 de chaîne, le Prométhée roulait à, a une vitesse trop rapide pour tout autre navire de Starfleet pour les rattraper. Cette interprétation est confirmée dans Star Trek Encyclopedia . Selon Star Trek: Starship Spotter , mais la vitesse maximale réelle du Prométhée de classe était de chaîne 9,99, ce qui correspond mieux à l'idée de Prométhée est le bateau le plus rapide de la flotte, depuis l' Intrepid -classe avait déjà été établi comme un expédier capable de 9,975 chaîne.
Taille
Rick Sternbach note que le « Prométhée viendrait à environ 1.360 pieds (414 mètres) de longueur ". ( Star Trek: The Magazine Volume 3, numéro 11 ) sur une longueur de 414 mètres a également été affiché sur une page d'un manuel d'Eden FX. ( Star Trek: The Magazine Volume 1, Numéro 24 )
Apocryphe
Dans la DS9 relancer série de romans Avatar, livre premier et deuxième livre , un Prométhée vaisseau de classe nommé USS Cerberus servi amiral William Ross personnelle de phare , en remplacement de l' USS Bellerophon .
Dans le jeu Star Trek Online , la classe est classé comme un «avancé escorte ", avec des classes sœur nommée Cerberus, Héphaïstos, et Phoenix. Lorsque la classe a d'abord été ajouté au jeu, il ne dispose pas de mode assaut multi-vectorielle. Ceci a été ajouté à une date ultérieure au moyen d'un «multi-vectorielle assaut module" de la console et également une configuration navire de remplacement.