[ONE-PS4] Featured Task Force Operation : La Bataille aux étoiles binaires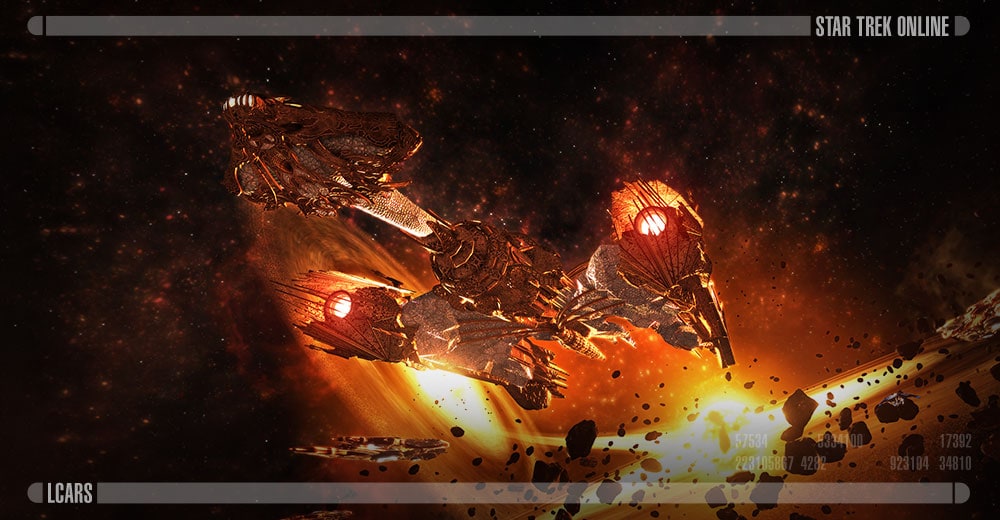 La Bataille aux étoiles binaires est historiquement l'un des affrontements les plus importants entre la Fédération et l'Empire klingon. Tous les cadets l'étudient à l'Académie, bien que jusqu'à présent, il s'agisse purement d'une étude du contexte historique. Mais le besoin d'étudier les tactiques de combat du 23e siècle s'est fait sentir par l'Alliance, en raison de la menace que représente les vaisseaux klingons déplacés temporellement apparus récemment, et menés par la tristement célèbre J'Ula,
La Battle at the Binary Stars est la première Featured Task Force Operation à l'affiche dans Star Trek Online. Cinq capitaines de l'Alliance pourront prendre part au combat en se mettant aux commandes de vaisseaux de la Fédération dans une nouvelle simulation holodeck spécialement conçue pour une meilleure compréhension et amélioration des méthodes de l'Alliance.
Au cours de cette simulation votre vaisseau prendra l'apparence d'un vaisseau de la fédération de l'époque de Discovery, mais il conservera vos pouvoirs, officiers de passerelle et traits – il ne s'agit que d'un changement visuel. Que pourrez-vous retenir de l'un des événement les plus désastreux de l'histoire de la Fédération, et parviendrez-vous à changer le cours de la bataille ?
Cet événement durera 3 semaines, à partir du 15 janvier pour les joueurs sur Xbox One et Playstation 4. Tous les joueurs de niveau 10 ou plus peuvent y participer et gagner un mérite de TFO toutes les 20 heures.
Terminez cette TFO 14 jours différents, et recevez le
Beacon of Kahless
tout en accumulant des Gages/Marks et du Dilithium ainsi que trois boîtes
Featured TFO Reward Boxes
. Ce cadeau spécial vous permet de choisir entre un
Enhanced Universal Tech Upgrade
ou une boîte
Captain Specialization Point
accordant immédiatement un point de spécialisation au personnage qui l'ouvre. Ces boîtes sont liées au compte, et peuvent être échangées via la Banque de compte.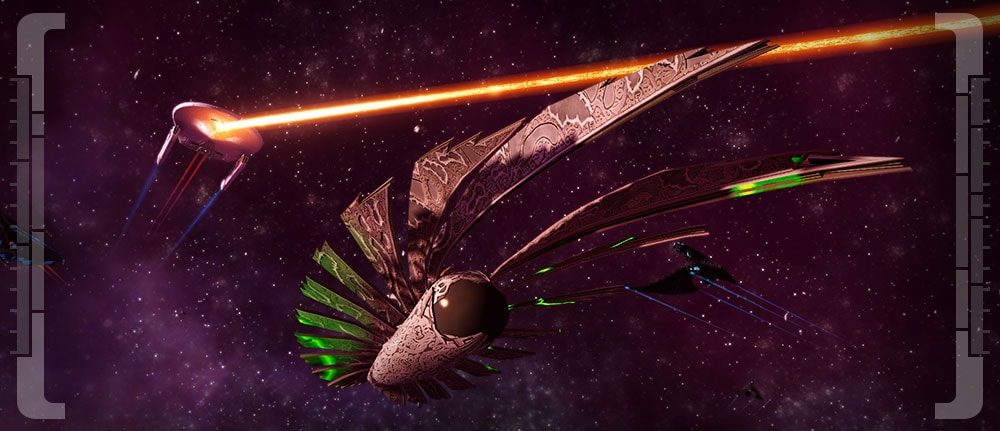 Tout personnage que termine le projet de 14 jours débloquera un projet bonus pouvant être complété avec un seul mérite de TFO. Ce projet vous récompensera avec du Minerai de dilithium, des Gages de flotte, et des Gages/Marks de votre choix.
Le
Beacon of Kahless
est un objet qui invoque votre propre balise personnelle. Cette balise apparaîtra et relâchera une lumière qui aveuglera et pacifiera vos ennemis. Puis un petit groupe de vaisseaux klingons se téléportera dans le système, répondant à l'appel de la balise pour vous prêter main forte. Cet objet sera débloqué pour le compte, et pourra être réclamé par tous les personnages du compte.
Bonne chance, capitaines !
Ryon "Melange" Levitt
Senior Content Designer
Cryptic Studios
Source :
[ONE] Featured Task Force Operation : La Bataille aux étoiles binaires
-
[PS4] Featured Task Force Operation : La Bataille aux étoiles binaires